What's A Pie Iron?
A Pie Iron makes sweet or savory grilled and pressed sandwiches and pies over a campfire. Simply take two pieces of buttered bread, fill with ingredients of your choice, place inside the clam shell style pie iron and seal. Remove any excess bread and toast over the fire for 3 - 5 minutes.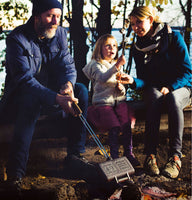 Around The Campfire Fun
Family owned for 3 generatons, Rome pioneered pudgie pie cooking with our Original Pie iron back in 1964. We're dedicated to creating unique and original tools and cookware for fun around the campfire or backyard firepit.